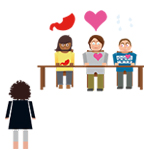 When you know the basics of aura healing you learned in Healing Hands 1 and 2, you are ready to learn more about your own way of healing. The Healing Hands Advanced courses help you develop your skills.
You learn how to translate physical dis-eases into their spiritual meaning. You learn how to follow the energy and trust your hands. The reading of energy and translating blockages into messages, solutions and information is part of these courses.
There are well over 25 different HH advanced courses so please let me know what you need so I can help you choose the right one(s).