Yesterday I received a beautiful bouquet from Marcel. He suffers from MS and came to thank me for my help during the stem cell transplantation he had in Mexico in November 2016. Having such a procedure in a country far away is kind of expensive and therefor he financed it by crowd funding. In just weeks he collected enough to be able to go and the universe supported him further and within weeks he had a spot in the hospital.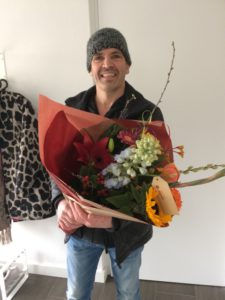 The stem cell transplantation he had was an autologous process which means that he got his own stem cells back, cleansed of course. Interesting because this means that he energetically got the same energy as before whereas, when you receive donor cells, you also receive the energetic load, the karma from the donor. This can cost a lot of energy because it makes recovering harder since you also get new, extra, karma issues to deal with.
Lucky for him Marcel didn't get that and even better: he passed all the 'exams' with flying colours. He's still a bit afraid to say it out loud, scared to jinx it, but he's doing great!
If you understand Dutch mixed with English and are interested in his story or want to support other patients that started crowd fundings to go to Mexico for treatments as well, please visit his FBpage https://nl-nl.facebook.com/marcelneverstopsrunning/