April 30th, 2016. Almost there.
All the course materials for my first international courses ever, is ready. Next week I'll leave for the South of France to conduct two courses, both two days long and after that I'll do a series of healings with French clients. I'll start of though by driving to a nice quite place to rest for a couple of days in the countryside and then drive further to Ginestous.
The firs course will be with Dutch participants who'll fly all the way from Holland to the South of France, just to participate in my course. I'm honoured.
And I'm also real happy, because it's a group of very nice people so I'm really looking forward to sharing those 4 days with them, teaching them all I can in this time and hanging out together and have a lovely time.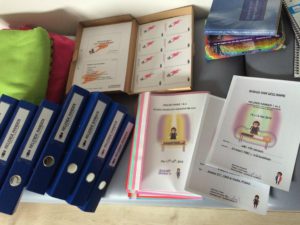 The day this group will leave, the French group will arrive and then I'll give another Healing Hands 1&2 course but this time I'll be translated into French. That's quite a challenge, both for me and the interpreter, because I normally speak Dutch or English, and I've never have worked with a translator before. She on the other hand, needs to be able to grasp the real meaning of my words, energy and jokes and although I don't speak French well enough to speak it professionally and I'm not able to give a course in it I do hope that I'll understand and speak it well enough to be able to get the remarks from the group members, even before they get translated. It's much more fun when you can communicate directly with someone.
So, with my course materials ready in two languages and special course certificates for this unique occasion, I'm happy to announce that I'm almost ready to go. In case you'll miss me, I'll be in a place without wifi (yes, that does still exist) so I can't read my email/facebook /whatsapp etcetera. Back in a few weeks! Au revoir!