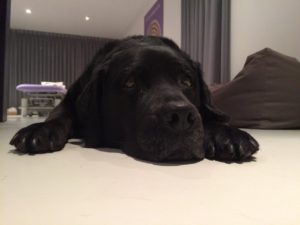 Senna, the black Labrador is tired and fed up. She thinks:
Mum doesn't pay any attention this week. Well, any. Not enough, I believe.
For days she had sessions and I wasn't allowed to play with her. I had to beháve.
Then she goes out and leaves me alone for a whole afternoon, to energetically clean a house in Stramprooij. I couldn't come with, because two cats were living there. As if I don't know how to behave. I just chase them. For fun, I don't bite or bark.
Then she was on the phone, constantly, with her head set on. Couldn't talk to her, couldn't play, And then, imagine, she Skypes to Florida (USA) and talks to someone about her sick cat and works on her. That cat got all her attention. I was a bit jealous.
Then something nice happened. She had a session with a very nice lady who cuddled me and allowed me to be in the practice.
And yesterday Mum first did a Skype consult with a client in the United Kingdom. I think she had fun, 'cause I heard her laugh but I couldn't listen in because she wore her headset again and she made strange sounds. Didn't understand a word.Boring ….
Then she went on wearing that thing on her had again and had a consult with Sweden. And afterwards we had to run because she needed to go to Arnhem to clean another house.
The drive was really long but the good news: I made a new friend: Willem. Big, black and beautiful, a real man, combination of a Shepherd and a flat coated retriever. He looked just like me, although I am an official Labrador.
We played for hours, both not too subtle. The only downside was that he wanted to climb on my back. Silly Willem, he's only 4 but I'm almost 11 years old, so it was no use climbing
☺
Willem has a roommate, a nice cat that I chased around the yard, so everyone was included and happy.
So yesterday wasn't too bad I guess, but today….
Mum was working with numbers and spreadsheets for the taxes. I heard her mumble 'what a waste of time' she didn't look too happy.
And then she was back to her happy Self and worked on a new pilot course, she'll give next week. But I don't completely understand why she's giving pilots a course?
It's about communicating with your Soul, Higher Self, Guides, Angels and other Light Beings.
Anyway, she kept writing and working and although she managed to give me my dinner in time today, we haven't played at all. Yet.
Because the slides are now ready, the binders filled and I hear her shout 'Weekend!!'
Finally. She's back. She sees me. I've had a rough week.