After 4 months of waiting because I really wanted an amethyst coloured Earth Lite, conforma and it had to be shipped by ship from the USA especially for me, I proudly present you the newest member of massage tables I use during the courses I give.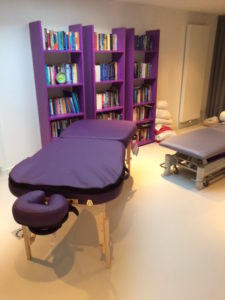 I almost didn't write this post because I just tested it and it feels like my bed, I didn't want to get up, because it follows the natural contours of the body. It provides extra breast support and spinal alignment by unlocking a zipper at the top.  Heavenly!
If you want to experience it while learning a lot about energy and auras you can inscribe for one of the upcoming courses. The first courses for 2018 are already planned: Healing Hands-the basics, The 40 Layers of the Soul and A 'Healing Hands advanced, how to connect on various levels'. Furthermore I will give special courses 'Sensing and dealing with energy for HSP who are deaf' which will be translated by sign language interpreters.
If you're interested, please let me know!