Last Friday I gave a course: the healing of trauma, in aura layer 6.
For those who don't know all the layers by heart, that's the one in which you can find trauma that originated in this or in Past Lives.
Trauma that can be of such an influence to your reactions in day to day life or that drive you off the Path of Life, that you can't experience what you came for on Planet Earth.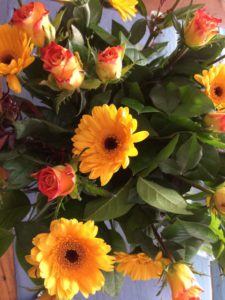 The course started with a beautiful bouquet that I received from a participant (Thank you Renny). Flowers without a reason. Simply for the joy of giving and receiving.
Then the course began and we dove into the theory and healings. Of course people came to learn how to work on those trauma's but since healers need 'course material', they also received their share of healings themselves.
In trauma healing, one tends to draw conclusions after being traumatised and the conclusion starts to create new drama. That's why I created some affirmations for the participants. Affirmations that were used as a patch to help heal the original wound. Perhaps one of these can also help you?
I'm safe, no matter what the situation is I'm in. I'm safe.
I choose my own responses, I choose how to react.
I value myself. I'm valuable.
I may trust to take the right decision in any situation.
I allow the right people to come near on the perfect level.
Even without protection I'm perfectly safe,
Sometimes I'm allowed to lean. And whenever I need support, I will find it easily.